Finding your way out of a relationship is one of the most difficult things to do. Long-term relationships, marriage, and serious commitments are the ones that are particularly hard to break. Sometimes, the mere thought of doing it is enough to fill you with a mixture of emotions, including anxiety, fear, discomfort, shame, and agitation.
While the best way to end a relationship is to do it in person, there are some instances wherein this won't be possible. Factors such as being in a long-distance relationship, major conflicts, a heightened emotional state, and various circumstances could prevent you from having a face-to-face conversation. In such cases, as much as you owe it to your partner to talk in person and in private, it would only prolong your agony. Therefore, breaking up over the phone serves as your best option.
If you're thinking of how to break up over the phone or wonder if it's even reasonable to do it in this way, consider the position you and your partner are in. Try to weigh down the situation to find out what's best for your relationship and both of you. The lesser the emotional baggage, the easier it would be for you to move on. After all, there is no such thing as a painless break-up. However, you can make it less damaging so that you can walk away from each other with dignity and respect.
If you choose to break up over the phone, here's what we can give you for advice;
1. Find the Right Time.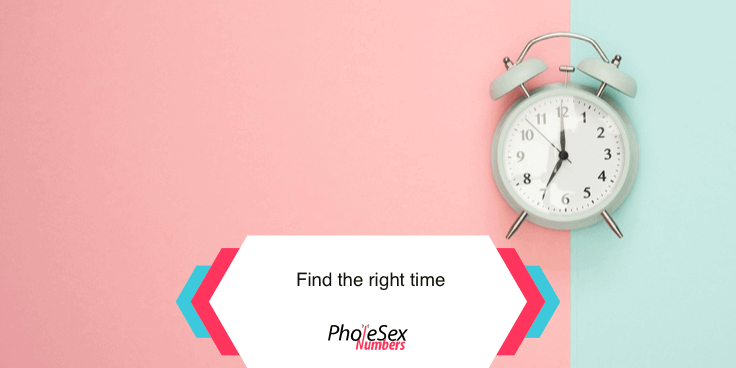 Communicating your intention to break free from your relationship is already hard as it is. This makes timing important. Ensure that you are in the right state of mind and emotion when you make the phone call, and be courteous enough to ask him/her if it's a good time to talk. 
Most breakups that happen over the phone are predetermined.
Often, the two persons involved already have a hunch on how the conversation would transpire, based on the tension between them. Either way, once you make that call, you're both aware that something is not right in your relationship; and the gap between you has become so undeniable that it's completely hard to ignore.
In this case, you owe it to each other to find the right moment to talk things over. Time is essential to achieve proper closure in a relationship. It is also one way of expressing your intention to end things on a good and respectable note, regardless of how difficult and painful your conversation would be.
2. Pick Your Words Carefully.
Be selective with your choice of words. Even if you're about to end a relationship, be compassionate enough to communicate how you feel in the gentlest way you can. It's bad enough that you're initiating the breakup over the phone, so avoid adding further insult to the injury by saying crude and unkind words. It's the least you could do to save whatever is left in your relationship.
Demanding a breakup in a harsh and uncaring way is something that you would regret later on. Keep in mind that we run in circles, and fate has its own way of making our paths cross again when we least expect it. So avoid triggering hate and resentment as much as you can by expressing yourself most unselfishly. Speaking the right words over the phone can spare you from dealing with ill feelings in the long run.
3. Do Not Blame Anyone.
If you feel the need to end your relationship on the phone, be sensitive enough not to play the blame game. It would only aggravate the situation and won't make things any easier for both parties. The best thing you can do is express your appreciation for the good times you've spent together and your gratitude for his/her understanding.
Don't attempt to look back at what went wrong in your relationship or on the conflicts that may have caused the downfall. In as much as you can, avoid criticizing or pointing out each other's shortcomings and inadequacies. Exchanging hurtful words during a breakup would only trigger negative emotions that can prevent you from moving on.
To minimize the long-term effects of a breakup, be sensitive to each other's feelings and extend as much understanding as you can towards each other.
4. Avoid Triggering Confusion.
Don't beat around the bush to avoid any confusion. Voice out how you feel, what you want, and why you need to get out of the relationship. As much as it would hurt, deliver your message loud and clear. Be direct yet considerate of his/her feelings. In the end, what truly matters is that you were able to express yourself with all honesty, regardless of how painful it is.
When talking on the phone, all you can offer are your words and your voice. Use them well to communicate how you feel. Extend compassion and empathy because these are what this person deserves from you. Breakups that happen over the phone can only become acceptable and justifiable if you can handle the situation well and without confusing the person on the other line. 
5. Prepare for the Worst Scenario.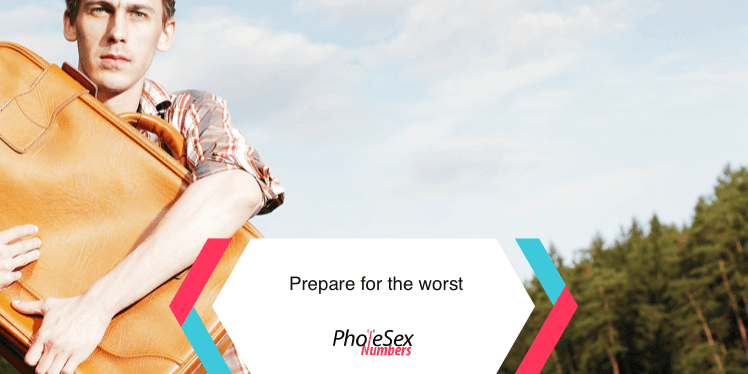 Things can get ugly during a breakup over the phone, which is why you have to prepare yourself for the worst scenario. You might hear a lot of distressing words and have to endure bad accusations. However, there is really nothing much you can do except listen and respond accordingly. Don't try to defend yourself or justify your actions. This would only result in an endless war of words that can easily get out of hand.
Breakups can bring out the worst in a person, which is why you have to be mentally and emotionally ready for it. Try to stay calm and think rationally. Arguments cannot bring back what is lost and won't make it any easier for both of you. No matter what happens, do not entertain an argument. "No response" is a response. It is also not a sign of weakness but rather a less damaging way to fight your way out of a relationship.
6. Be Apologetic.
Keep in mind that neither you nor your partner is responsible for the breakup. Sometimes, unforeseen things really do happen in a relationship, and there's no way to stop them. No couple is totally spared from potential heartbreaks and detachment. When this happens, the best thing you can offer is your sincere apology.
Instead of racking your brain on how to break up over the phone, try to think of a good way to express your apology. Even if you're not the one at fault, and you believe that you're the one who's on the losing end, apologizing can put an end to a rather complicated and painful situation. It ends the struggle for both of you and encourages proper closure.
It's quite challenging to prove that you are truly apologetic when you're breaking up over the phone. However, with the right choice of words, a sincere tone in your voice, and kind expressions, you can bridge the gap between the two of you and find a way to say "you're sorry that it didn't work out".
7. Be Honest.
A break up over the phone demands complete honesty. You might have to deal with awkward questions such as; "are you seeing someone else?", "is there another man/woman?", and "have you lost your feelings for me?" These are just some of the questions that require honest answers. A simple "yes" or "no" might suffice, but sometimes, you'll need to elaborate on your response to shed light on the situation and let reality sink in.
Regardless of how uncomfortable and heartbreaking it is, try your best to be honest. As most people would say, "it's better to hurt someone with the truth than to comfort them with a lie". Therefore, avoid aggravating the situation by sugar-coating your answers, just to make the other person feel better. The best thing you can offer during a phone breakup is your complete honesty.
8. Know When to Hang Up.
Break ups that happen over the phone can have unpredictable outcomes. It's easy to hang up and end the conversation when the emotions get high, and the pain becomes unbearable. Hanging up the phone right in the middle of the break up can leave behind a lot of loose edges. Such unresolved issues are the breeding ground for hatred and despair that can prevent one or both parties from moving on.
To prevent this from happening, know the right time to hang up and put an end to the conversation. You also have to be extra careful to avoid hitting the wrong nerve, which might complicate the situation. Stay on the line for as long as your ex- needs you. Don't rush things just to put an end to the agonizing breakup. Even if there is nothing more left to say, your silence could still mean a lot. So let your intuition guide you, and you'll feel it when it's finally time to hang up and say goodbye.
9. Choose Your Parting Words Carefully.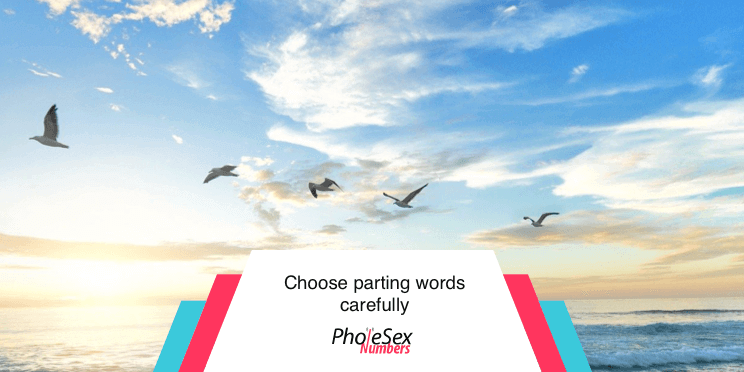 You might want to leave behind some parting words before hanging up the phone. There is no explanation why you have to do this; but strangely, parting words are customary in most breakups. Perhaps, it's a polite way of closing the door behind you or a cue that marks the end of the relationship.
It could be as short and thoughtful as saying, "take good care of yourself" and "I wish you nothing but the best". The other parting words that we commonly hear are; "you deserve someone better" or "I want you to be happy" and "find someone who deserves you more". In reality, it's pointless to tell a person how to live his/her life or to encourage new expectations at this point.
Still and despite all these, the parting words you'll leave behind during a break up somehow give each other that much-needed consolation and assurance that says; "we'll be okay without each other", "we're good now", and "it's time to go our separate ways".
10. Don't Call Back.
After hanging up, don't attempt to call back your ex. It's natural to feel guilty for a certain period of time, but find comfort in knowing that you did what you had to. The mixed emotions you are feeling are just remnants of the breakup. So feel free to take a break to realign your elements and put things back into perspective.
The chances are that you'll find yourself hanging with a lot of things left to say. No matter how bad you feel, fight the urge to call, and consider this moment of uncertainty as your cue to move on and start over. This is not just for yourself, but for your ex- as well.
Final Words of Advice
Breaking up over the phone doesn't make ending a relationship easier. Yes, it is convenient, but it doesn't make the process less painful or less damaging. Still, if it's the least you could do, ending your relationship over the phone is far better than "ghosting" your partner and leaving behind a lot of unanswered questions. It's going to hurt, and it might result in long-lasting resentment, but your honesty can set you free.