Indian culture and tradition says that physical and emotional enjoyment with your partner is one of the most important aspects of life. We say we couldn't agree more! But, what exactly is "The Kamasutra"? What does it stand for, if anything, and where did it come from in the first place?
We've all heard of "The Kamasutra" and chances are, you probably associate it strictly with just sexual positions, but has anyone ever really stopped and looked into the written porno to see what all was in there?
We did. And we were quite pleased, in more ways than one, at what we found out.
What Is Kamasutra?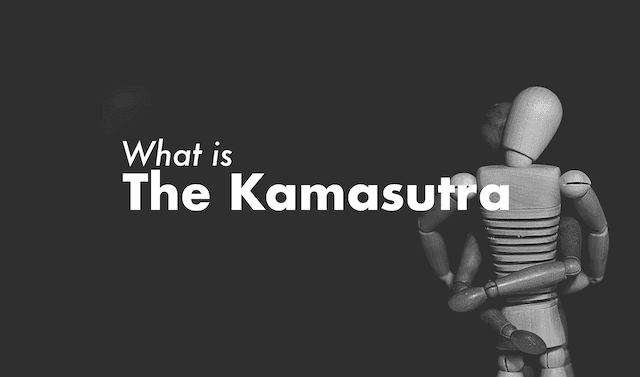 While most people think the textbook is just sexual positions and nothing more, we found that "The Kamasutra" was way deeper than that. This could even be considered the "love Bible" because it shows you an in-depth, scientific, yet super emotional look at sex for both men and women.
Of course, the book is meant to bring couples and partners much closer together through sex and sexual pleasure, but it's far from disgusting and raunchy.
In fact, the book is made for those who are experiencing true love or emotional connections with their partners, and it's a great way to learn how to bring the two of you even closer together.
Meant for 100% sensual satisfaction, "The Kamasutra" is there to help harmonize any relationship, bringing the two of you to a much deeper level in your relationship and will also teach you, with in-depth descriptions, how to have warmer, and more sensual embraces with one another.
This book isn't just about sexual positions either, it goes much deeper than this. Remember, this is the "love Bible" so the positions are just the icing on the cake, but within the paragraphs, you'll find some deep, astounding ways to know just what your partner really wants and what they truly desire.
As we stated before, this book is meant to open your eyes and provide insight on the backend of things, instead of just seeing sex and love for what it is on the surface.
What Does Kamasutra Even Mean?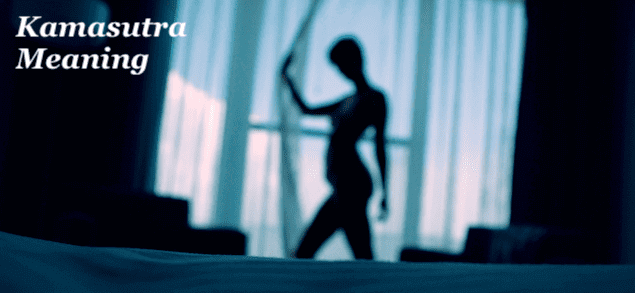 The Indian word "Sutra" means theory or rules of, so then what is kama and why do we have a theory and rules for it? Kama stands for physical and emotional pleasure and is one of the four main Indian life goals that one should accomplish within their lifetime, according to Indian culture.
Kama means a sensual aspect of life that unveils emotional and physical enjoyment and is considered to be one of the top four values one should embrace. The other three main virtues follow behind Kama:
Artha means glory, power, competence
Dharma means morality and wisdom.
Moksha gives liberation
The virtue "Kama" falls in the number one spot of all Indian values because they believe that in order to continue on your journey you must first have physical, sensual enjoyment. Indians believe this is the very first step to discovering your divine roots.
What's Inside of "The Kamasutra"?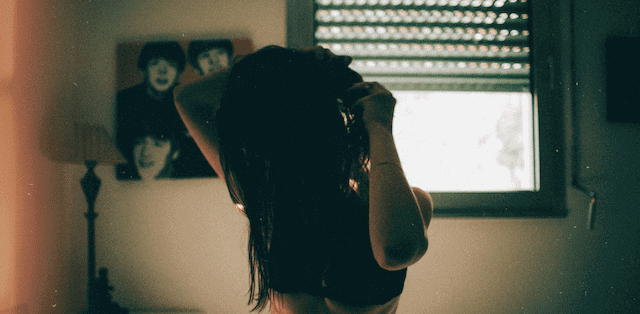 We mentioned earlier that it's not just about sexual positions, in fact, only 20% of the book contains descriptions and thought out steps of different positions to try. Since it's the "rules of love" or "the theory of love", it's meant to teach you about attraction, the roles of a man and woman, self-love, and so much more.
The famous book consists of seven chapters, all compiled by the scientist and philosopher Vatsyayana Mallanaga, who took many different texts from many different writers and rewrote them in his own scientific form.
There are a total of thirty-six chapters in "The Kamasutra", each chapter dedicated to a different aspect of sexual pleasure and enjoyment. Some are even quite taboo. The book is also divided up into seven different parts:
Part 1. Introduction
Part 2. On Sexual Union
Part 3. About the Acquisition of a Wife
Part 4. About a Wife
Part 5. About the Wives of Others
Part 6. About Courtesans
Part 7. About Attracting Others to One's Self
There are also three main ingredients taught about sex and endorsed inside of this magical book:
What Does Sex Mean?
What Sex Should Consist of
Sexual Techniques
So, if you're looking to become an expert in all things sex and love, 'The Kamasutra' might be better for you than 'Fifty Shades of Grey'.
Some of the Best Kamasutra Sexual Positions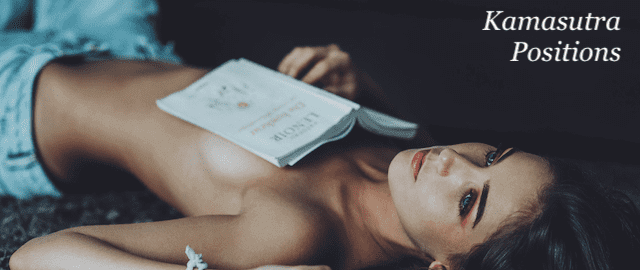 Let's face it, there are a million and one sexual positions and every one person is different, so each person will have their likes and dislikes about particular positions. The key is to find one that suits both you and your partner.
And it doesn't necessarily hurt to try them all out, right? Maybe not all at once though, there are over 100 in this book alone, and you may be worn out by the time you get to position number eight!
The Plough
The Plough position is much like the Wheelbarrow position, except for it's much more comfortable to perform. The woman lies tummy down, with her legs off of the bed and straight out. Her top half will be rested on the bed while he will come in between her legs, holding her legs up by her thighs.
Since this position is most similar to one of the hardest positions to perform, the Plough ends up taking over by a landslide as it gives you all of that same pleasure but without all of that pain associated with the position.
This position is perfect for both him and her because, during intercourse, her vagina will tighten up not only squeezing her partner's member creating an intense gripping sensation for him, but also causing her orgasm to be that much more intensified as well.
The Rider
Similar to the classic girl on top position, except having him bring his knees up, the Rider position is perfect for good clitoral stimulation. Not to mention, men love it because they get to lie back and watch their woman perform.
What's great about this position is that you can choose to sit up straight for deep penetration or you can choose to lie down on top of him for intimacy. You can also stimulate your own clitoris by positioning yourself in such a way that you are grinding it on his upper penis area.
Or you could always have him stimulate the clit for you.
With his knees up and her on top, this creates deeper penetration, so it's ten times better than your usual rider position. He can also bring his knees up and have her literally straddle over him, creating an even more intensified experience.
The Amazon
It's a super wild position, the Amazon, but it gives women the ability to almost act as the man (without a strap-on or penis) and it allows the man to feel as if he's the woman in some ways. The way this position is performed is quite possibly the most bizarre sexual position in the books, but totally worth it.
He will lay on his back, holding his knees up to his chest and pushing his penis out between his legs. The woman would then sit over him and the pair will rock back and forth to get into penetration mode.
This position sounds super intimidating but we promise you, don't knock it until you try it!
Maybe this is something you would try with your man or girl when the two of you decide to have a night out of drinking and then you get home for the fun to take place. Alcohol seems to take away those inhibitions that hold us back from trying something awesome!
The Frog
Instead of doggy style, this is the froggy style, and one of the sexiest positions (we think) in the Kamasutra and of sexual positions! The Frog is much like it sounds, she'll rest her upper half on the bed or over a counter, with her ass up in the air.
Except for that part (her ass) won't be on the bed and the only thing holding her bum up is her partner, who will literally hold her ass in his hands from behind. Didn't we tell you it was quite sexy?
Since she's able to rest her upper body on the prop, the woman can choose to stimulate herself or him during intercourse as well.
Froggy style is loved by both men and women for the mere fact of how sexy they both feel while doing it. The woman feels like a hot girlfriend being banged by her hot man and the guy is just lucky enough to be on that end of the position, to be honest.
The Hero
"And then a hero comes along…" There's a damn good reason they call this move right here the hero - anyone who tries it, does it, and accomplishes it for the woman is a damn hero. Why? This is one of the best g-spot hitting positions there is.
She will lie on her back with her legs up in the air and as far back as she can get them (ankles to chin, girl!) and he will kneel in front of her, holding her legs in the air if he can. He can also use his hands to play with her clit and her breasts if he wishes to take her to climax quickly.
Deemed one of the most favorite positions by all due to the erotic nature and deep penetration due to the way she's positioned and lying back, while he's able to kneel into her. We have to admit, it's one of our favorites too!
The Curled Angel
Even though this position is one of the most common positions that you've probably already done without knowing, it's still listed as one of the best. Known as the "spooning position", the Curled Angel can be a super intimate, erotic lovemaking session or just super hot sex, depending on how you wish to perform it.
The two of you are able to take turns in the motion if you'd like, or just allow one of you to take full control, whatever you prefer. Take turns being the little spoon and big spoon also if you can.
The Star
The Star is known as the star position because of the shape the two of you make once you are fully in position and ready to go. She'll lie on her back with one leg stretched down and out, and the other raised up. He'll kneel into her with one leg under her bent leg and his other leg over her outstretched one.
Thus the star shape is made! Perhaps the best part of this position is it's another g-spot hitter position, a lot like the Hero. Something about kneeling into her creates some of the deepest and hardest-hitting penetration you can have during intercourse.
Add extra flavor to this position by having him rub her clit or breasts during sexual intercourse if he wishes to give her one of the best (if not the best) orgasms of her life!
How Do These Sexual Positions Help and Benefit Us?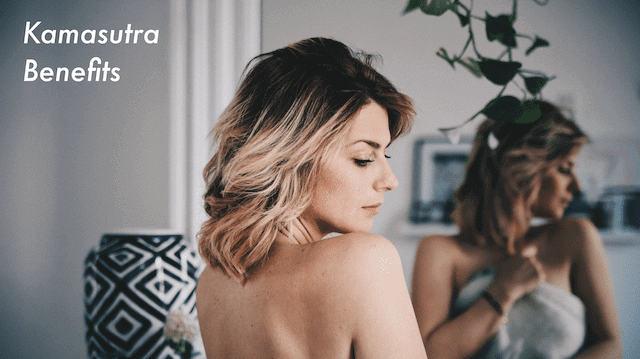 Having sex isn't just about feeling pleasure but it's also about building strength, love, and trust within a relationship. That's why the Kamasutra actually teaches that sex and love-making are the best when you are doing it with someone you truly care about.
Of course, pleasure and stimulates are pretty awesome too, there are many ways that these Kamasutra positions can help us and even benefit us in the long run.
One major key component here is exercise, having sex actually burns just as many calories as you can working out (assuming you could pull off a 30-minute sex session next to a 30-minute workout that is).
Working out, or having sex, is going to get your blood flowing, heart rate going, and adrenaline pumping. You'll be getting pleasured and losing weight all at the same time.
Another major benefit of these sexual positions and practices is to bring you closer to your partner or lover. There's nothing quite like sex from a sex Bible that will get two people to come together more so than they were before.
Perhaps the best thing about the Kamasutra and its' sexual benefits would be that you learn to love yourself and have more confidence somewhere in the midst of practicing these fantastical positions, and while learning about your partner as well.